Archives
Added plenty of enteries to the thread at Anandtech about the Earthquake. [
Edit: Unfortunately, that thread got lost in the archives
]
The response has been quite ummm..... stilted? I have met some very good Americans on the internet and some very ignorant, self-serving Americans. I remember the level of support they got for Sept 11 and we people truly sympathized with the victims and their losses. There has been very less of the same reaction from the other side (talking about the people themself) when the cause and distress is ours. I guess the following post on Anandtech summarizes it quite well:
Hey, it's not important! It's not gonna affect america now is it?
They care more if Bin Laden is dead from the earthquake or not. Who bl**dy cares about the mocked-up threat named Bin Laden?
I must however add that some people have been very supportive and encouraging.
Read More!
Well, I went to NIIT today. The DG was insistent on making us take classes. Even Dr. Waqar didn't knew about classes being held today and came a period late. He then cancelled his second class.
Read More!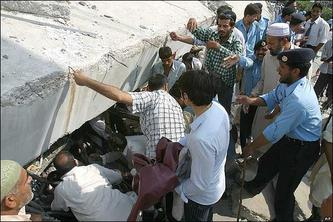 Terrible incident claiming, as of yet, 20000+ lives and leaving 41000+ injured. 17000 deaths were in Kashmir alone....
The Margalla Tower collapse incident has been quite a shock. One feels surreal when passing that building since I have seen it plenty in passing before the incident occured.
Read More!