Archives
by Babar Bhatti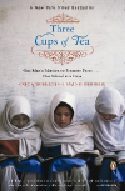 I discovered the book
Three Cups of Tea
by
Greg Mortensen and David Oliver Relin
in my local library.
Once I started reading it was hard to put it down.
The book is
about a bohemian American mountain climber Greg Mortensen whose life was saved in a remote northern village of Pakistan in the 1990s. To show his gratitude, Greg decided to build a school there.
What happens after that is a remarkable story of triumph against what seemed enormous odds at that time.
The name of the book comes from an anecdote where Haji Ali, the elder of village Korphe tells Greg to stop making everyone crazy during the construction of the school. Says Haji Ali, "You must make time to have three cups of tea with us. The first time you share tea with a Balti you are a stranger. The second time you take tea you are an honored guest. The third time you share a cup of tea, you become family and for our family we are prepared to do anything."
Greg confesses that it was the most important lesson he ever learned:
to slow down and build relationships is as important as building projects.
"He taught me that I had more to learn from the people I work with than I could ever hope to teach them".
I absolutely loved the book. But instead of rambling on with my personal impressions, I'll share an editorial reviews of the book, posted on Amazon.com, where the book is rated 5 stars based on 76 reviews. A
New York Times best-seller
, it was also
Time Magazine's Asian Book of The Year for 2006
.
Read More!