Archives
I got this disk today and was doing some benchmarks. I thought I should put these here for general information on the drive's performance.
It is a Seagate 7200.12 ST3500418AS drive with 16MB cache (compared to 32MB on 500GB 7200.11 model) on nVidia nForce 4 SATA controller. Previously, the ST3500418AS drives were detected as ST3500410AS but this one is detected as ST3500418AS, just like the sticker on the top says. That's a relief! Internet forums are filled with talk about ST3500418AS being detected as ST3500410AS.
There has been a lot of talk about firmware issues with the 7200.11 series of Seagate's drives. The issue resulted in the drive suddenly dying without any reason. The 7200.12 series hasn't had any similar firmware issues reported as yet. For all intents and purpose, these drives are impervious to he firmware issues plaguing the 7200.11 series hard disk drives.
Anyway, enough talk... The read and write benchmarks by HD Tune Pro are given below. Click on the thumbnails to see the full image for either benchmark.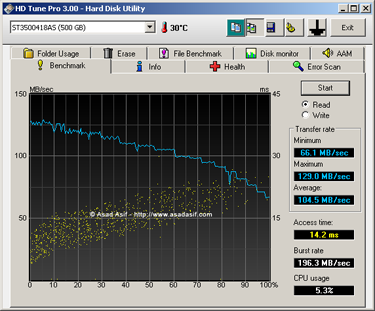 Read benchmark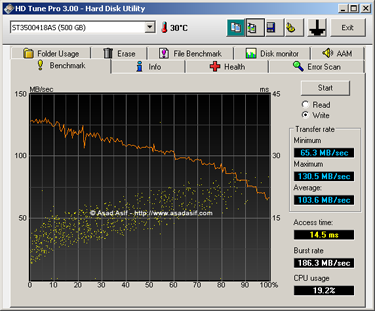 Write benchmark
This disk has an average transfer rate of above 100MB/s for both reading and writing!
I reckon two or more of these disks in RAID configuration (mirroring) will work beautifully.
Read More!