Archives
Ramadan is finally here! The first fast is tomorrow.
A very happy Ramadan to Muslims all over the world. May we all benefit from this as much as humanly possible. May Allah help us return to the right path. Amen.
Today I participated in the first ever International Conference on Advances in Space Technologies (ICAST 2006) at the Marriott Hotel in Islamabad. This 2 day conference has been organized by the Institute of Geographical Information Systems (IGIS) of National University of Sciences & Technology (NUST), Institute of Electrical and Electronics Engineers (IEEE) Islamabad Section and IEEE / AESS (Aerospace and Electronic Systems Society)/ GRSS (Geosciences and Remote Sensing Society) Societies Joint Chapter. This is the 1st International Conference of the envisaged biennial conferences of ICAST series.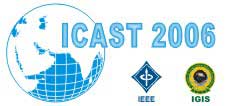 Read More!