Comments
18/07: Days 2, 3 & 4 - University of Leeds
This post is a continuation of my previous posts regarding my trip to UK. Previous posts regarding this trip are:
Tea with the Queen
Day 1: Arrival at the University of Leeds
When we woke up the next morning, we had a tight schedule ahead of us comprising of visits to various university departments and labs.
After breakfast, we headed to the Agilent Lecture Theatre in the Engineering School for a welcome talk by Dr. McLernon (Post-Grad Research Tutor) and Professor Paul Harrison (Head of Engineering School).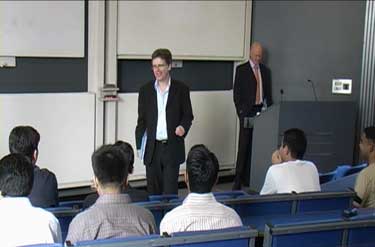 We were then given detailed presentations on the research activities at the Institute of Integrated Information Systems (I3S). Research at I3S is concentrated in various fields like communications engineering, instrumentation and positioning, etc. We were told that research in communications engineering includes all aspects of fixed, mobile and satellite communications, radio wave propagation, signal processing and coding. A pretty vast field, if there ever was one! :-)
Afterwards, we proceeded to the School of Mechanical Engineering. Prof. David Barton conducted this tour. We were shown a sports car designed and developed by students of Leeds University to take part in the inter-university competition held every alternate year. I thought this to be a very good initiative with lots of practical work involving the students themselves to achieve something. Below is a picture of the car: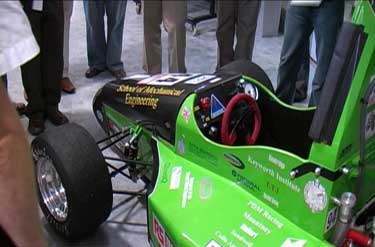 Dr. Mi Wang gave our group a tour of the School of Process, Environmental and Materials Engineering (SPEME) which is one of the largest integrated multidisciplinary engineering schools in Europe. It has six discipline areas for undergraduate degrees, and its three research institutes are internationally acclaimed.
After SPEME, we visited Institute of Microwaves and Photonics, where Prof. Giles Davies, Dr. John Cunningham and their PhD scholars briefed the students on various ongoing research projects. I myself took interest in the presentations on Terahertz spectroscopy and nanotechnology. While nanotechnology is a very common buzzword now, I feel that Terahertz can easily be the next buzzword enticing people to new possibilities.
After the presentations, we headed toward the School of Computing, which I personally found to be very boring, no offence intended towards the people working there. Prof. Roger Boyle briefed us about the ongoing activities at the school. This was the last event for the day.
After this, I alongside a group of my friends walked around the campus exploring the area and watching pedestrians walking around enjoying themselves. People watching can be fun. You get to observe so much!
In the evening, we were taken for bowling to Hollywood Bowl in taxis. The visit was arranged by the university and I enjoyed it a lot though by the time we were finished, my fingers were aching since the balls I used were heavy.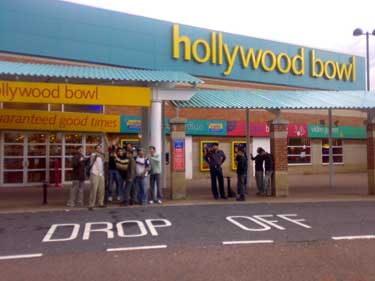 Unfortunately, I found that I am not very good at bowling. The occasional fluke aside, my performed was mediocre. :(
We came back to Lyddon Hall and I enjoyed some light dinner before going to sleep.
The next day, we started off with a tour of the campus facilities. We were shown the sports complex, studentsí union office, library, international office and various lecture halls around the campus. Afterwards, Dr. M. Ghogho, Dr. Zhang, Dr. Strangeways, Dr. Freear and Dr. Horler delivered talks on some I3S Research projects. The tour and the talks took the majority of the day though it was less hectic than the day before.
The University of Leeds also organized a student poster presentation that afternoon, which was very informative. Again, I was interested in posters relating to the fields of nanotechnology and tera-hertz. We mingled with the university students and faculty and discussed with them different research ideas of our interest since most of us visiting students are heading toward our final year and will need to select our projects soon.
One this was over, we found that it had started raining. One never knows when it will rain in Leeds which is rather frustrating but since we went there from the prevalent Pakistani summer, we enjoyed it. We students even had a small water fight in the rain jumping on each other as if we were little children. It was fun and while the people around stared at us in surprise, we couldn't have cared less!
That evening, we were taken to Aagrah, a South Asian restaurant. It was expensive but enjoyable and we had fun calculating how many nans we could buy back at home for the price of a single nan in that restaurant. We figured we could get at least 80-100 nans for the price of one in Aagrah restaurant! They also sold mango milk shake re-labelled as
mango lasi
!
During the dinner, Dr. McLernon and a group of students, which included me, got into an extensive debate about Pakistan, it's rather negative image abroad and the truth behind the news reports. The debate led to the discovery that Dr. McLernon is an Atheist. It was very surprising to me. To be honest, I was assuming him to be a Christian. I have to say that he is probably the first [and the only] Atheist I have had a discussion with who turned out to be a decent person and who earned my respect for his views.
During the discussion, I came to know that Dr. McLernon and his son have visited Pakistan oft times and they were of the opinion that Pakistan is very unfairly treated so negatively abroad when there are a lot of positive things which could be highlighted instead. We discussed events ranging from the 9/11 attacks to Islamic injunctions about suicide bombers to the ignorant clerics in NWFP who stop cars to confiscate music players and radios installed in cars. The conclusion of our extensive debate was that so long as the lack of education and that of intelligent and independent thinking persists, the problems will continue. People need to look outside the box they live in and make decisions for themselves instead of allowing other entities to make decisions for them.
On the way back, we walked to the university and looked at the markets and various statues and monument which dotted the area. It was a pleasant walk while a colleague of Dr. McLernon gave us information about the history of the place. We got into a discussion about Arthurian legends with mentions of Merlin and the veracity of these legends and myths. It was a fun discussion especially since I dabble into the world of fan fiction often enough. I particularly mentioned the novel
A Connecticut Yankee in King Arthur's Court
which was written by Mark Twain.
The next day (18th of July), we were due for departure to the University of Cardiff. I had breakfast at Lyddon Hall and then proceeded to Agilent Lecture Theatre for a leaving talk and presentations. We got to meet the staff (again, whom) we had already met during the last two days and I thanked them for their hospitality and the welcome they extended to us. Then we boarded a hired bus and enjoyed the beautiful countryside for the next couple of hours until we reached Cardiff.
In all, our stay at the University of Leeds was pretty good. On the matter of academics, I feel that the School of Electronics, and the ongoing research on nanotechnology and tera-hertz are pretty good in their own right. There are a lot of opportunities which only need to be availed.
Comments made
Hi Asad,

I'm enjoying your writing on your trip to England. Thanks for sharing it.

Dave
29/08 21:37:01
@ Asad: Nice to know about your tour ... It's really a pleasure to see some pakistani Blogger here!!
18/09 12:31:43
dear asad... that was really good to read out our journey to Leeds Uni.. I did my MSc(Eng) in RF Wireless Communication from there in 2005.. Dr. Mclernon was our instructor for two courses. He is really a good man. I am sure you njoyed your trip. Good to hear about leeds uni :)
08/06 17:40:44
Add comment