Comments
22/08: Mutiny as passengers refuse to fly until Asians are removed
Link to article
Excerpts:
British holidaymakers staged an unprecedented mutiny - refusing to allow their flight to take off until two men they feared were terrorists were forcibly removed.

The extraordinary scenes happened after some of the 150 passengers on a Malaga-Manchester flight overheard two men of Asian appearance apparently talking Arabic.

Passengers told cabin crew they feared for their safety and demanded police action. Some stormed off the Monarch Airlines Airbus A320 minutes before it was due to leave the Costa del Sol at 3am. Others waiting for Flight ZB 613 in the departure lounge refused to board it.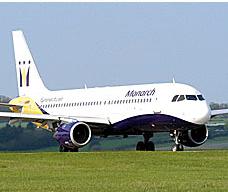 It also raised fears that more travellers will take the law into their own hands - effectively conducting their own 'passenger profiles'.

Websites used by pilots and cabin crew were yesterday reporting further incidents. In one, two British women with young children on another flight from Spain complained about flying with a bearded Muslim even though he had been security-checked twice before boarding.

The trouble in Malaga flared last Wednesday as two British citizens in their 20s waited in the departure lounge to board the pre-dawn flight and were heard talking what passengers took to be Arabic. Worries spread after a female passenger said she had heard something that alarmed her.

Initially, six passengers refused to board the flight. On board the aircraft, word reached one family. To the astonishment of cabin crew, they stood up and walked off, followed quickly by others.

...
I don't really think I need to comment on this act of inequality, injustice and discrimination. The following comments from the article sum it up aptly:
"I have never in all my life heard anything so stupid. I can't believe that we Brits have become so hysterical and gullible over just a few years."
- Patricia, Jarrow,Tyne and Wear
How absolutely appalling. That people would allow their ill-founded prejudices to spill over and affect these two men, already cleared by airport security, is simply farcical.
- Lorrie, Manchester, UK
What next? Not letting Asian people board buses or even worse segregating them just like in America until recently. We must tackle the root causes of ignorance and not judge a book by its cover. As a British Muslim I feel less and less part of Britain because of the media and government campaign that lumps the trouble makers and law abiding Muslims in one basket.
- Malik, London
What a disgrace.
- Tom, London
What knee-jerk ignorance!
- Bernie, Canada
Comments made
Add comment